This week Harvey Nichols revealed their tongue-in-cheek Christmas ad, titled "Sorry, I Spent It on Myself" which sparked a complete social media buzz.
The luxury department store ran the ad online via its website and YouTube on Monday, which has since gone viral. By Wednesday morning both 'Harvey Nichols' and the hashtag #SpentItOnMyself were trending on Twitter.
So far 2013 has seen John Lewis's soppy 'Bear and the Hare' Christmas tale, soldiers reunited with their families at Sainsbury's, Alice in Wonderland from retailer Marks and Spencer and a teenage boy secretly giving gifts at Boots. Now we finally have a brand who is willing to buck the trend, take some risks and present us with something a little bit different.
The advert taps into our self-indulgent side, and basically says what everyone thinks about Christmas shopping. The structure features a set of familiar family scenes, with characters sitting around exchanging presents on Christmas morning. However the gift givers opt for cheap presents, including a water-resistant sink plug and a pack of toothpicks, to the dismay of their loved ones. The gift givers are notably wearing the designer items they have bought themselves instead.
To accompany the video, Harvey Nichols have launched a full range of gifts called "Ultra Low Net Worth (ULNW) ", including some which were featured in the advert. Gifts from the range include, a pack of "authentic Lincolnshire gravel" – which costs £1.61, and a "genuine wire sponge" – 96 pence.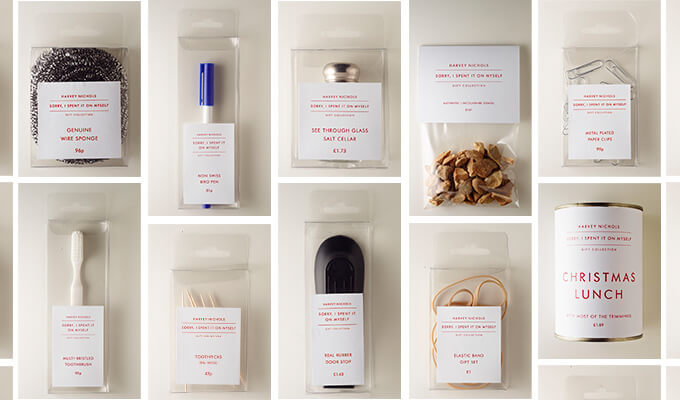 A lot of people have been debating on social networks whether the retailer has spoilt the spirit of Christmas. I personally think it's great that a brand has broken the stuffy, over-done, do-gooding Christmas advertising mould. Harvey Nichols is well known for its controversial advertising (see here), and this advert is another great example of how to get your marketing noticed.
Bah Humbug!