Article of the week:
Homeless Man To Launch His First App After Just Eight Weeks Of Training
Patrick McConlogue a software engineer from NYC offered a homeless man whom he passed everyday on his way to work, two options: $100 or lessons in coding.
The homeless man named Leo, interestingly took up McConlogue's offer of coding lessons and started learning programming for around an hour each day. Using just three JavaScript books and a basic laptop, Leo has made dramatic progress in his study and is actually working with Patrick on building an app. The pair plan to launch the app at the end of Leo's eight-week coding course.
Here at GWCM we are eager to see what Leo's app will look like, so we've been following his progress on the project's Facebook page.
For more information read this article in the Business Insider.
Ad of the week:
Dance Dance Baby
http://www.youtube.com/watch?v=icP3jvmG-oE&autoplay=0
'Dance Dance Baby', started as a Facebook app which was created for parents to upload videos of their children expressing their personality to music.
With over 3,500 online entries, Cow and Gate, the children's food manufacturer, then selected their favourite clips for their new advert.  The 30-second ad shows a group of toddlers dancing to Black Box's 'Ride On Time' against a CGI backdrop. The ad was first launched on YouTube ahead of its television premiere on Monday 14 October.
Social Highlight:
Pinterest Promoted Pins Debut
Last month, Pinterest announced that it would start showing advertisements on its service in the form of "Promoted Pins." These ads are paid placements from select retailers and businesses which would then appear within Pinterest's search results and categories. This week the company began to roll out the initial tests with these new pins.
Unlike the obnoxious, 'in your face' ads found on YouTube and Facebook the idea behind 'Promoted Pins' is that they will appear almost identical to regular pins that users have pinned on their boards. This way it doesn't feel like social media advertising, because they aren't flashy banner ads or pop-ups, but rather relevant items designed to match a user's interests.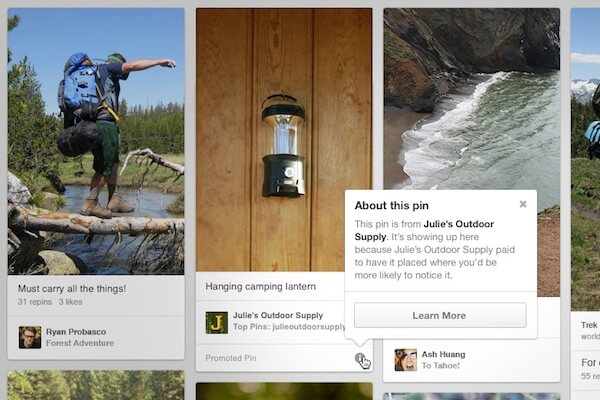 In the example image you can see how the pin is labelled as an ad – it says "Promoted Pin" below the item description and included the retailer's link.
Let us know if you've seen anything interesting this week by tweeting us @GWCM_