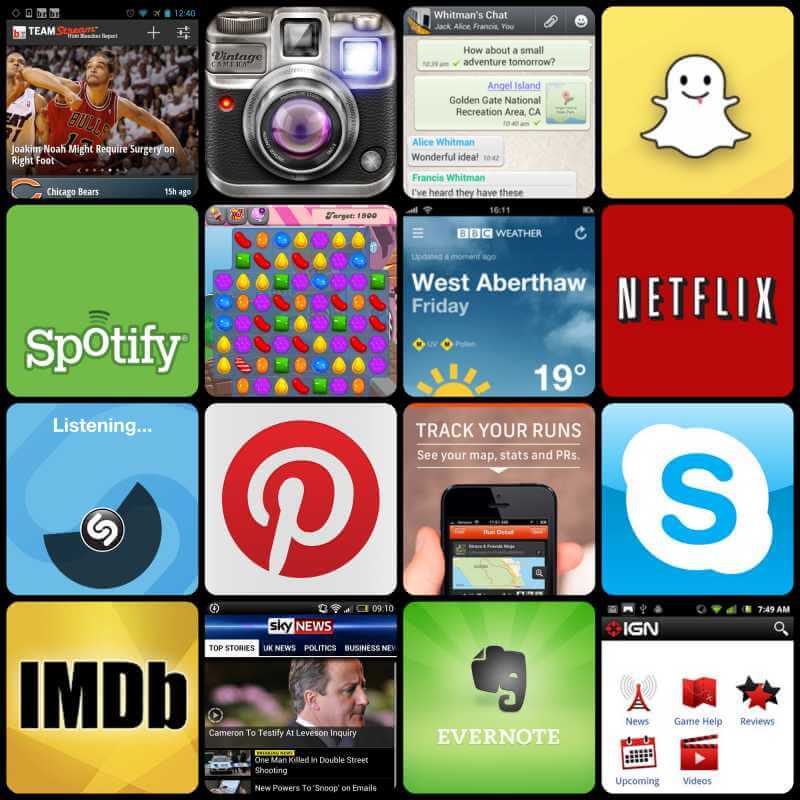 Here at GWHQ we use a lot of apps. We're a team of 9 who are addicted to all things digital and social so it didn't take us long to decide our must-have apps ranging from cult favourites to unsung heroes. Presented in a random order we give to you "Our favourite apps of all-time" (for now anyway…)
p.s The titles are all clickable and go straight to the website where you can download the app from. Thank us later
1) Team Stream from Bleacher Report
What is it? Team Stream helps you stay in the know with your favourite teams – get hand picked sport stories from around the web without having to subscribe to a bunch of RSS or Twitter feeds. The experience is designed to be highly customisable and social allowing users to take control of what they read.
Price: Free
What is it? The App that gets the most hype when it comes to photo-editing is nearly always Instagram, well we're bucking the trend! If you're looking for a retro vibe to your photos we much prefer the filters on offer with Vintage Camera.
Price: Free
3) What'sApp
What is it? Cult favourite – What'sApp is the ultimate cross-platform mobile messaging app which allows you to exchange messages without having to pay for SMS. It's quick, fun and customisable (what more could you want?)
Price: Free
4) Snapchat
What is it? Snapchat allows users to capture videos and pictures that self destruct after a few seconds. You send someone a message, decide if you want it live for 1-10 seconds, then that's it it's gone. Extremely addictive, hilarious and a great way to pass time.
Price: Free
5) Spotify
What is it? Spotify gives you instant access to millions of songs, albums and playlists. It's a great way to discover new music or listen to old classics… Such as The Spice Girls (yep, we made a Spice Girls playlist shhh don't tell).
Price: Free/subscribe
What is it? And the award for the most addictive app goes too… Candy Crush! It's basically Bejewelled in hunger-inducing candy form. You score points by lining up at least three candies in a row to 'crush' them. If you haven't downloaded this yet you've got to give it a go. However if you get stuck on level 38 don't come crying to us… We can't get it off it either.
Price: Free
7) BBC Weather
What is it? Pretty self explanatory but a great app nether the less. Living in England you need to know what the weather is like day to day and this does the job perfectly.
Price: Free
8) Netflix
What is it? If you want TV episodes and films on your phone or tablet this is the app for you. Membership gives you unlimited programmes and films that stream instantly – we don't have a bad word to say about it!
Price: Initially Free/ Membership required after a month
9) Shazam
What is it? Shazam recognises music and media playing around you. Ever had that annoying niggle when you can't recognise a song or just want to know what it's called? Tap Shazam to recognise, explore, buy and share what you've found.
Price: Free
10) Pinterest
What is it? Find your inspiration and share it with the world – Pinterest is an online scrapbook where you can collect, organise and share images of things you love. Warning: this app is highly addictive and may inexplicably cause you to plan your dream wedding.. (as a side note: there is the option to keep certain boards 'secret', in this case we strongly advise this)
Price: Free
11) Strava Run
What is it? Record your runs and rides, track your progress and join challenges. We love Strava Run for the ability to set progress goals – it keeps us motivated!
Price: Free/ Upgrade for better features
12) Skype
What is it? Good old Skype becomes mobile – use it as an instant messaging tool or for voice or video calls. Great for business and for catching up with friends.
Price: Free
13) IMDb
What is it? Learn everything about new and past movie releases, crew information, photographs, trailers, synopsis, user comments and reviews.
Price: Free
14) Sky News
What is it? Get breaking news straight to your device – Sky News features image galleries, live blogs, graphs, interactive pictures and videos.
Price: Free
15) Evernote
What is it? Evernote lets you take notes, capture photos, create to do lists, record voice memos, set reminders and more. If you're an organisational freak this one if for you.
Price: Free
16) IGN
What is it? Get video & mobile game reviews right to your phone or tablet. Not sure of what game to buy next? Search through IGNs' top rated then bookmark them so you have them to hand next time your in a store.
Price: Free
Phew! That's it, if you've made it to the bottom of this list then give yourself a big pat on the back!
And if you have any app recommendations for us then give us a tweet @GWCM_!